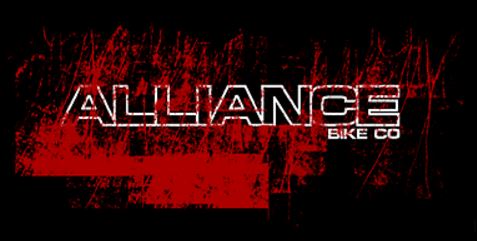 Alliance Bike
Yes Virginia, there is a Santa Claus. We have frames, and they are here just in time for Christmas! Our first shipment of 2005 PSIs arrived today, so for a limited time we will be selling these directly. Give us a call (905-952-0527) or email and see if we have what you're looking for. Orders can be payable by cheque or money order or you can bug your local shop to order one in for you.
JIMMY TAHLI
Un non autre gosse de tailwhip ? Tabernac ! Nous sommes fiers d'annoncer notre premier cavalier commandité de France, Jimmy Tahli. What the hell am I typing? Jimmy Tahli of France has been hooked up with Alliance, sponsored through french distributor Eastreet. At 17 years old Jimmy Tahli, like many other young guns, shreds the BMX (and the poutine). Rock n roll tout le monde avec vttrando.fr
THE IAN CARMICHAEL TRIBUTE BMX JAM
A great friend and inspration to many of us here in Southern Ontario passed away this summer. His tragic death struck all of us and brought a loosely knit group of guys a whole lot closer. BMXer, Ian Carmichael will be sorely missed by many - A short life lived full of an everpresent energy and a great love for BMX.
A few locals (Vesterfelt, Kempeinnen and Heaton) will be holding a memorial jam in Ian's honour Saturday, September 25. All proceeds will go to support the Ian Carmichael Memorial Fund.
When you arrive, don't be surprised to see the likes of John Heaton, Jay Miron, Kevin Porter, Dave Freimuth and more ripping the place up. There will be raffles and giveaways donated by Macneil, Alliance and many more.
PROFILE RACING
Over the past year, Matt Coplon and Profile have helped out the Alliance crew immeasurably and we really haven't given them the full recognition they deserve. Since their early BMX beginnings in 1979, Profile has come a long way. How many other BMX companies can be hailed as being that long-lived with such a positive force in the BMX world? They continue to push the ever expanding BMX envelope, yet still remain true to even the little guy. In a world of increasingly over-comoditized, over-saturated, over-priced gimmics, and otherwise needless excess, Profile has continued to strive to release a product of necessity that actually has a grounded leg to stand on. A big thanks to them for standing by Alliance. Check out their website for the latest.
FLATLAND FRAME UPDATE
The saga continues. Brandon and Steve have been testing the first set of prototypes and we will be getting a new one made before we go into full production. We hope to have the new prototype finished within the next month. The complete story of the flat frames can be found
DROPOUT MOD
If you're still riding with the stock dropouts on your 2002 PSI and run your rear wheel all the way to the front of the dropout, here's what to do: Cut your dropouts down as pictured here. We received a couple comments from kids tweaking their dropout after a year of riding. This simple modification will remedy any further problems.